Firearm rental: 
Firearm rentals are FOR CLASS USE ONLY!
All rental packages:
Must use ammunition purchased from Condition Red Response
2.  Must sign a rental agreement.
***while supplies last.  I have a limited number of firearms for rent***
Pkg 1: $30 Includes Single Firearm, 3 magazines, holster, 2 magazine pouches.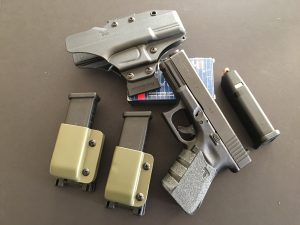 Pkg 2: $45 Includes Pkg 1 and you may trade for a different firearm and gear set to try a second type.  Includes only 1 firearm and gear set at a time.
Referral Pkg: $50 Includes 2 complete sets of Pkg 1.   (applies to those in referral tuition category only)
Ammunition for rental packages:  Market price plus tax and small service fee.
Current costs: 9mm $15/box of 50.  Estimated round counts for each course are listed under Course Library.  Minimum number: 100 rounds.
Additional Ammunition:  Cost includes market price + service fee and sales tax (as above).  When available.  Please order ahead of time if you would like me to have this available on the day of your class.
Contact Condition Red Response via Facebook Messenger or Email to reserve a rental package or to order ammunition.