Please refer to the 
Tuition and Fees
 or
Payment Options
 pages if you have questions about the different options!

Open Seats
Jul 10, 2020 – Jul 11, 2020
8:00am
Performance Shotgun focuses on accountability and building technical proficiency. Many are intimidated by the perceived recoil of the shotgun, in Performance…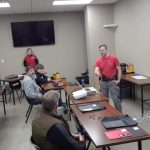 Open Seats
Mar 14, 2020
9:00am – 6:00pm
Our flagship course is a compilation and condensation of everything that we have learned concerning the fundamentals of shooting!  We start the day off…
WEATHER POLICY:
We shoot rain or shine unless the conditions become unsafe. I will contact each shooter personally and post a cancellation if this occurs. Guns will survive a few hours of rain and so will you. *Does not apply to lectures including Part 1 of Pistol Mechanics. No weather cancellations exists for these.